Dumpster Funk 2 by Rchecka
Science dropped by Martini & Jopparelli. Sep-29-2010
Do you remember this Sun Ra tribute? It was a really pleasant and educational journey into Sun Ra music. Now, the man behind the decks of that mix is back and we are honoured to host his new effort. This time he has put together more than one hour of fantastic and vibrant old tunes. It's a very impressive selection believe me and you definitely got all that you need to get funky!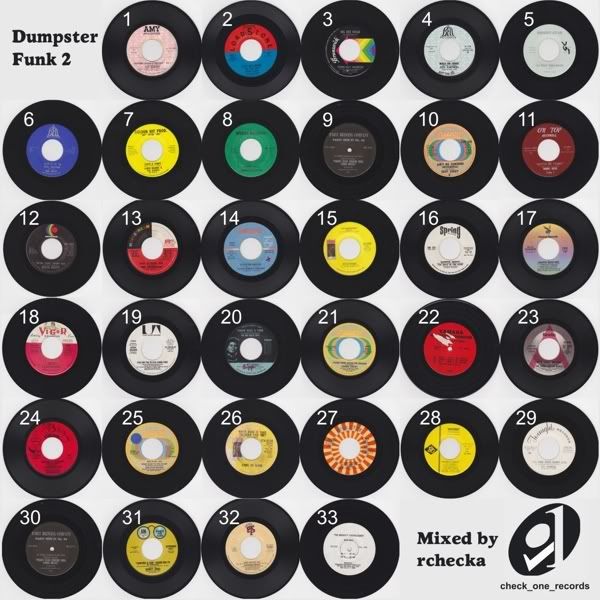 "The funk 45 is such an unpractical music medium. Yet Funk-heads know they remain one of the most relevant formats when it comes to the undefinable genre of Funk. If only there was an easier way to enjoy the music so you wouldn't have to change the records every 3 minutes, it would be more popular and palatable with music-lovers." That was the inspiration behind Dumpster Funk 2. It's simple, the music is so fun, so jazzy and up-beat, it NEEDS to be shared. I made it my primary DJ mission to collect Funk 45′s specifically for this mix.
Little did I know that it would take me 6 years of effort!  You all know mixing 45s is very difficult.  DJs like DJ Shadow and Cut Chemist make it look so easy with their Brain Freeze and Product Placement sets.  I've seen footage of Mark the 45 King, juggling 45s!  But they are super-men in my mind, and I didn't have the skills or the Funk records 6 years ago to even attempt a Funk 45 mix.  But I had to try!
So I collected records, and I worked every moment of free time on mixing down Dumpster Funk 2, only to scrap what seemed like hundreds of takes.  Certain songs matched BPM, but not key, others matched in key but not BPM.  I was going broke from buying all kinds of rare Funk 45s online.  I was taking a chance that what I bought might mix well with the record I was stuck on.  For 6 years I collected hundreds of Dumpster Funk left-overs that never made it on the mix.   Don't get me wrong, I don't regret a thing.  I just had to learn that I must find the right songs or it just wouldn't work.  The most important things I learned is to take my time, don't force mixes, work with songs that play nice together, and forget about every thing else.  Incidentally most of the songs on this mix are in their natural BPM, so I didn't need to change the tempo with them.  They just naturally fit, making this whole thing feasible, but only after going through so many trials and errors.
One very special record on this mix is the one most of you have heard hundreds of times. Or have you?
This Radio Station version released on Kinetic records (I'm just gonna come out and say it) IS EVEN MORE FUNKY then the version most are familiar with.  While listening to track #23, note the extra congas, more fuzz in the guitar, it just sounds different.  While none of the records on this mix were actually found in a dumpster, this one might as well have been found in one, because I ordered a different record, and the seller by mistake shipped me this instead!   I paid a mere 3 dollars for a record that some sellers call "rarer then hen's teeth!"  This is one of the most valuable and cherished records I own, so you can imagine I never told the seller about his error in my favor.  As far as he knows, he shipped me a cheap Jimmy Castor Bunch record, and he did!
As with any mix like this, there had to be some fillers to break up some more abrupt changes in BPM, but I got lucky because I found some funky-ass radio commercials that fit the theme!   I found a gem of a record produced by Pabst Blue Ribbon Beer back in the Seventies which sparked a new collecting disorder inside me; collecting 7 inch radio ads from the 70s.   I can't find any information about that record, it doesn't seem to exist, but I am fairly sure that it is the late-great Lou Rawls singing the Pabst theme song.  Granted, I probably spent way too much money on those 30 second ads, but I knew they were the glue for Dumpster Funk 2.  These were the interludes I needed to change the pace of the mix, so I bit the bullet and gladly dropped my paychecks on oddball, one-off radio records.
Bottom line, there are so many great Funk 45 mixes out there, and Dumpster Funk 2 is frankly just another late addition to the passing phase of making Funk 45 tapes.  But that never mattered, I just had to do it.  I love these records so much I felt obligated to make this mix for fans of funk music.  I decided long ago that 'every thing I do from now on gotta be fonky!'  I hope yall can dig it!
rchecka